Goodnow Library Summer Reading Program 2014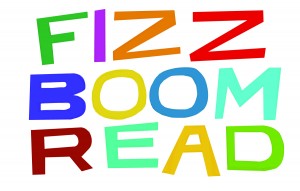 An exciting summer of reading is in store for children at the Goodnow Library!  All kids from birth through rising 6th graders are invited to participate in the library's summer reading program. One of the most effective ways to improve reading skills is to read regularly and often, and research has shown that children who participate in summer reading programs reap the benefits of greater academic achievement!
This summer the Goodnow Library will have fun programs and activities to get children excited about reading. Starting on Tuesday, June 24th, stop by the children's room to sign up for the program and receive your summer reading materials: reading log, reading challenge, bookmark, sticker and tattoo! 
As we spark a reading reaction, help us construct a science laboratory mural by reading all summer long! For every 5 books a child reads they will get to add a new piece of art to the children's room mural. For every 10 books read, or every reading challenge completed, children will get to vote for which Discovery Museum exhibit the library will support on behalf of all of our summer readers! Each child that participates in this year's program will be invited to our summer reading finale: A Night at the Discovery Museum and Ice Cream Party!
The library will offer a number of weekly programs for kids this summer in addition to a host of special events. Check out all of the program details and complete your registration on our calendar. Hope to see everyone sparking a reading reaction all summer long!
Weekly Programs
MONDAY

TUESDAY

WEDNESDAY

THURSDAY

FRIDAY

10:00-10:30 AM
and
11:00-11:30 AM

  Music Makers  

Ages 0-5

11:30-12:15 PM
and
12:15-1:00 PM

Itsy Bitsy Yoga  

(7/8, 7/22, 8/12) 

9:30-10:00 AM
and
11:00-11:30 AM

Wee Reads

Infants to 2 years

10:30-11:00 AM

Tales for Tots

Ages 1.5-3 years

10:30-11:00 AM

Preschool

Storytime Fun

Ages 3-6 years

4:00-5:00 PM

 Fizz, Boom, Science! 

Ages 4-8

2:00-2:45 PM

 Summer Lego Club  

Ages 4 years and up

4:00 PM

Summer Flicks (PG)  

All Ages
Special Prog
rams
*Denotes programs requiring registration; Click green links to be directed to registration page
Rockets, There and Back Again with the Museum of Science
Drop-In Craft
Fridays, June 27, July 18, August 1, August 15 from 2:00-4:00 PM; Ages 3 and up
Animal Adventures S
how
Tuesday, July 1 from 10:30-11:30 AM and 4:00-5:00 PM; All ages
Thursday, July 3 from 4:00-5:15 PM; Grades 6 and under
Truck Day
Wednesday, July 9 from 10:00 AM-1:00 PM; All ages
Electric Zany Rock and Roll Science Show
Thursday, July 10 from 4:00-4:45 PM; All ages
Thursday, July 10 and Thursday, August 7 at 7:00-7:45 PM; Ages 9 and up
Board Game Bonanza
Fridays, July 11, July 25 and August 8 from 2:00-4:00 PM; Ages 2 and up
Teddy Bear Picnic
Create a Cardboard Car and "Drive-in" for a Movie
Thursday, July 17 from 3:00-6:00 PM; Movie rated PG
PJ Storytime
Thursday, July 17 and Thursday, August 21 at 7:00-7:45 PM; Ages 3 and up
Ed the Wizard and His Alchemy Laboratory
Thursday, July 24 from 4:00-5:00 PM; Ages 4 and up
Stuffed Animal Sleepover
Monday, July 28, 4:00-7:00 PM stuffed animal drop-off; Tuesday, July 29, 9:00-10:30 AM stuffed animal pick up; All ages
Big Ryan's Tall Tales
Tuesday, July 29 from 10:30-11:00 AM; Ages 0-5
In My Backyard and Oasis in Space Planetarium Shows*
Discovery Museum Dinosaur Workshop*
Lindsey and her Puppet Pals
Tuesday, August 5 from 10:30-11:15 AM; Ages 3-8
How to Catch a Mouse! Simple Machines at Work with Jungle Jim
Thursday, August 7 from 4:00-4:45 PM; Grades PreK-5
Thursday, July 10 and Thursday, August 7 at 7:00-7:45 PM; Ages 9 and up
Summer Reading Finale: Night at the Discovery Museum & Ice Cream Party
Thursday, August 14 at 5:30-7:30 PM; All ages
Categories: Children, Summer Reading