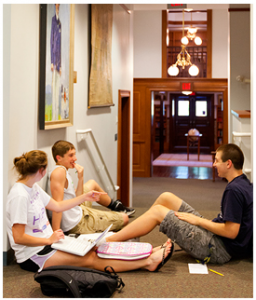 Teens are always welcome anywhere in the library!
The Teen Area, on the second floor of the library, is a space reserved just for middle school and high school students to talk, study, relax, or read. When school is not in session, the room is exclusively for teens ages 11 and up.  Adults and younger patrons are allowed to come in and look for a book, but the hang-out space is purely for tweens and teens in the Goodnow Library.
Teen Advisory Group
We're currently looking for volunteers for a brand new Teen Advisory Group. We need an enthusiastic and creative team to:
assist planning programs
give feedback on the Teen book collection
help make the library a comfortable space for teenagers
What's in it for you?
An opportunity to learn new skills
A place to have fun and meet/work with new people
Earn community service credits
Snacks!
Members must be in high school. Drop-ins are welcome, but being able to commit to attending monthly meetings is preferred. You may fill out the application here.
It's your library. Own it.